The role of SOLEPLATES is very important within systems of rail installation for overhead travelling cranes, harbour cranes or gantries. Indeed these soleplates which are found in a continuous or individual installation along the track, constitute the interface between the guide rails andor its pad guide and the cement grout, epoxy resin or concrete of the second phase.
They allow a better distribution of the constraints between the foot of the rails and the support of the track, constraints induced by the vertical loads, horizontal longitudinal and horizontal transversal loads applied to the system across the wheels.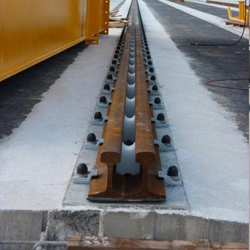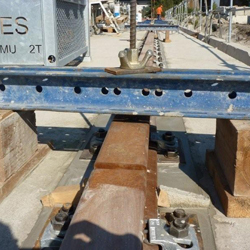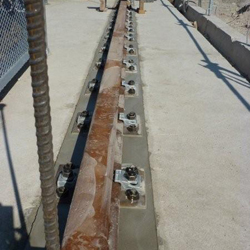 The skill of installing on a concrete support supposes a system designed as follows :
Concrete first phase
Concrete second phase with reservations for the anchor bolts
Cementitious plugging mortars with a high module of compression or Epoxy resin
Anchors bolts, screw threads, (cylinder or cone-shaped)
Soleplates of steel grades S235 or S355 fixed continuous or individual (depending on the loads applied to the system)
FLAT PADS, continuous (in lengths of 12ml) or individual (according to the width of the Individual Soleplate)
BOLTED Clips or Welded clips which allow the rails to be fixed to the Soleplate.